Midland Small Business Saturday: Shop Local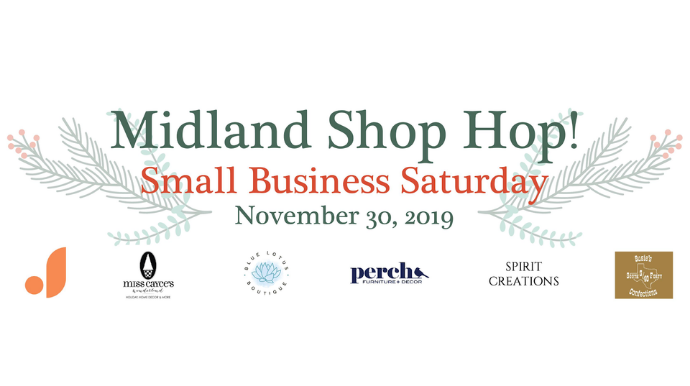 November 30th is Small Business Saturday and an excellent reason to support the small businesses that make Midland such a vibrant place to live.
The Midland Chamber of Commerce is hosting a Small Business Saturday Pop Up Market to help celebrate. The event will run from 10:30 to 4:00 and feature local businesses like Sugar & Almonds, The Paper Honey Bee, Clark Garden Co., and more. In addition, Finch Media Company will be on-site for holiday photo ops.
The Midland Shop Hop is another Small Business Saturday event. It is being hosted by several Midland businesses (including Perch, Lacy J, Spirit Creations, Susie's, Miss Cayce's and Blue Lotus). Participating shoppers have the chance to win prizes, gift cards and even jewelry. On an individual level, many businesses are also hosting special events within their stores, making Small Business Saturday an exciting day for local retailers and shoppers.
History
Small Business Saturday was started ten years ago by American Express. What started as a small campaign has blossomed into a revenue driver that supports small businesses in our community and throughout the country. In fact, the annual event has already generated $103 billion in sales for small businesses (National Federation of Independent Business, 2019).
"What began nine years ago as an effort to support local stores during the holiday shopping season has become the Shop Small movement, bringing together millions of shoppers, small businesses of all kinds, civic leaders and organizations in thousands of towns and cities across the country," said Elizabeth Rutledge, Chief Marketing Officer at American Express.
The Small Business Economic Impact on Midland
Before purchasing gifts this holiday season, consider how buying from a local store can positively impact Midland's economy. In fact, every dollar spent at a small business contributes 67 cents to the local economy.
In addition, when local businesses grow, the economic activity they generate causes growth in other local businesses. According to the Small Business Economic Impact Study from American Express, each dollar spent at a small business, creates an additional 50 cents in local business activity.
Quick Fact: Every ten jobs at a small business, supports an additional seven jobs within the community.
By shopping local on November 30th, and throughout the year, you are directly contributing to economic growth in Midland - both at individual retailers and restaurants, and in the other local businesses they support.
References
American Express. (2018, November 13). Small Business Economic Impact Study. Retrieved from American Express: https://about.americanexpress.com/press-release/another-reason-to-shop-small-on-small-business-saturday
National Federation of Independent Business. (2019, November 18). The Influence of Small Business Saturday. Retrieved from National Federation of Independent Business: https://www.nfib.com/content/news/alabama/the-influence-of-small-business-saturday/